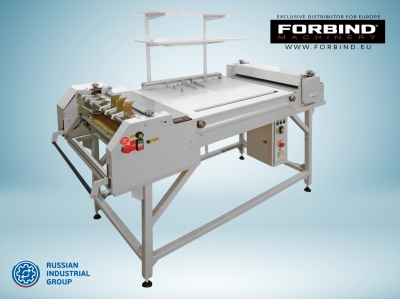 "GIMNAZIST" – LAMINATING AND BOOKBINDING MACHINE
Laminating and bookbinding machine at an affordable price!
Short time of adjustment. Strong magnetic stops.
Production speed is 100 to 120 pieces per hour!
KPM Gimnazist laminating and bookbinding machine is intended for printing houses that produce hardcover perform and laminating operations. This machine is designed for production of binding covers of small and medium print runs, as well as laminating works.
This machine will be especially interesting for digital printers and printing houses with a large number of small print runs thanks to a short time for setup and adjustment to the print run which takes no more than 15 seconds. Modular design allows one to place the machine in an office space which enables bringing it in through standard doors.
Storage system (shelves) ensures ergonomics of the production process and increases productivity.
Advantages of the machine over its analogues:
affordable price
short time of adjustment
strong magnetic stops available
modular design
pass-through and turnover pieces part of the package
power consumption up to 2 kW
power supply 220 V
hot and cold glue used
integrated glue temperature control system
water bath
ease of operation
adjustment of the glue machine operation speed
no complicated mechanisms
Technical parameters:
protection against liner winding
protection against the shaft neck bending
built-in vacuum available (no compressor or vacuum cleaner needed)
protection against foreign objects on the glue shafts
| | | | |
| --- | --- | --- | --- |
| No. | Parameter | Gimnazist 500 | Gimnazist 700 |
| 1 | Glue application unit (width) mm | 520 | 720 |
| 2 | Assembly table (format) mm | 600*860 | 800*1,150 |
| 3 | Number of stops, pcs | 2 | 2 |
| 4 | Width of stops, mm | 7 | 7 |
| 5 | Additional stops | any width, optionally | any width, optionally |
| 6 | Turnover pieces | yes | yes |
| 7 | Pass-through pieces | yes | yes |
| 8 | Magnetic side stops of the liner | yes | yes |
| 9 | Magnetic rear stops of the liner | yes | yes |
| 10 | Magnetic rear abutting frame | optionally | optionally |
| 11 | Backlight for precise positioning of the back | yes | yes |
| 12 | On/off vacuum | yes | yes |
| 13 | Backlight for the operator's work station | optionally | optionally |
| 14 | Storage system (shelves) | optionally | optionally |
| 15 | Calender outlet desk, tilt-adjustable | optionally | optionally |
| 16 | Shelf adjustment by height | yes | yes |
| 17 | Maximum length of the closing overhang of the liner | 700 | 1,060 |
| 18 | Calender unit (width) mm | 520 | 720 |
| 19 | Power supply, standard 220 V | yes | yes |
| 20 | Modular design | optionally | optionally |
| 21 | Overall dimensions: cm | | |
| 22 | depth | 0.91 | 1.18 |
| 23 | width | 1.88 | 2.25 |
| 24 | height | 1.12 | 1.12 |
| 25 | Weight, kg | 192 | 248 |